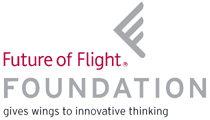 Student Summer Exchange Program
Student Summer Exchange Program
The Future of Flight Foundation also facilitates an aerospace program for college-age students
For four weeks each year, students participate in an intensive aerospace program that includes hands-on materials science projects and access to leading aviation experts and facilities. Diverse cultural experiences and travel within the U.S. to unique aerospace venues help provide students with a once-in-a-lifetime experience.

Young people from the U.K., Australia, Brazil and China have benefited from the program, often terming it "life changing." Our goal is to expand this program to include additional university and college students from around the world.

Donations allow us to provide financial assistance, when needed. $10,000 covers one student's entire program expenses. To donate to the Student Summer Program, please contact our Development Director.
To learn more about the Student Summer Program, please contact our Executive Director
Partner Highlight