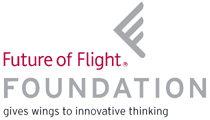 Partner with Us
Join the Future of Flight Foundation supporters and you'll meet a prestigious group of sponsors who share a passion for innovation, aviation, and education. When you support Future of Flight Foundation programs, your business or organization becomes one of our Partners in Innovation.
Partners in Innovation
Our Partners in Innovation receive acknowledgment for their kind contributions. We recognize all partner sponsorships in written materials and on our Web site, in our lobby and on our large gallery screen.
Our Partners in Innovation program also provides excellent perks. Partners can network and collaborate with each other and us. And, according to giving level, partners can use rooms at the Future of Flight facility, arrange for client and employee tours, attend VIP events, and much, much more.
This year, program participants are invited to a private event on our famous Strato Deck to watch the Boeing 747-8's First Flight.
To join Partners in Innovation, please contact our Development Director.
Learn more about Partners in Innovation
Partners in Innovation Participants
Partner Highlight